The Common Man Donut Shop
You might smell the Donut Shop before you actually see it. That tantalizing smell is coming from a small building next to the Hooksett Welcome Center where irresistible apple cider donuts are made daily year-round. Come watch them being created. No doubt, you will have to eat some here while they're still warm, and then take a bag home to share. Your family and friends will appreciate it.
The choice is yours – plain, cinnamon & sugar, maple glazed pumpkin, or chocolate. Visit once and you'll understand why the Donut Shop is a regular destination for many. You'll be back, again and again.
Oh, and while you're here, check out the newly installed ice cream section that includes a wide selection of Common Man-made ice cream!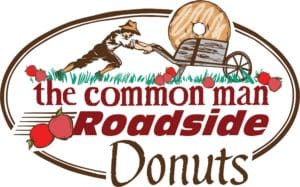 Hooksett Rest Area (I-93 Northbound)
530 West River Road
Hooksett, N.H. 03106
Cider Donut Shop Hours:
Sunday-Thursday 7:00 am – 3:00 pm
Friday & Saturday 7:00 am – 7:00 pm