The Common Man Roadside Market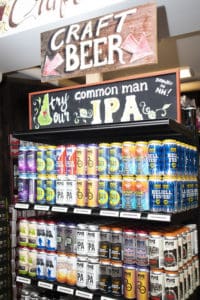 We've got a store like no other! Full of road trip supplies, New Hampshire-made products, and more! Our Common Man Roadside Market is stocked up on snacks, fresh sandwiches, beverages, Common Man Joe fresh coffee, goodies and anything else you might need to refuel during your road trip.
The New Hampshire Made Organization stocks our shelves with a wide array of goods produced right here in the Granite State, from goat's milk soap, to pure NH maple syrup, to t-shirts and memorabilia. We also have a wide variety of New Hampshire Craft Beers and other beverages, as well as New Hampshire State Lottery tickets.
Need some on-the-road supplies? We've got phone chargers, windshield washer fluid, and scrapers. Don't forget to stop in for your camping supplies including ice, bundles of fire wood and bug spray! Stop in for all of your on-the-go needs! Our Common Man Roadside Market is open 24 hours a day!